DAIDA Foundation Global Urban Thesis Award : competition edition 2023
DAIDA FOUNDATION's OBJECTIVE FOR THIS COMPETITION SERIES
The annual DAIDA Foundation Global Urban Thesis Award aims to acknowledge and support Master graduates who, through their work, help improve the urban infrastructure and living conditions for vulnerable groups in the rapidly growing cities of developing economies. Eligible participants are Master program students with either design or research component in subjects which are related to cities and/or urban- environmental landscape.
Association
with MYLIVEABLECITY
---
Effective Awards edition 2021 – DAIDA Foundation has appointed MYLIVEABLECITY as the administrator for purposes of communication and operational work arounds. All communications and queries should be addressed to academy@myliveablecity.com
Mission
Mission Statement of DAIDA Foundation :
To support institutions or groups of individuals involved in improving the infrastructure and living conditions of vulnerable citizens in cities of the developing world. Through action on ground and through education, research and/or transfer of information.
DAIDA Foundation's vision of Designing Cities for All : Addressing Minorities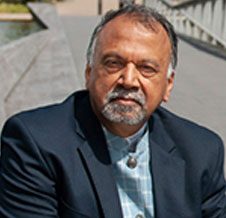 Shyam Khandekar
Chairman of DAIDA Foundation and Co-founder,
Director and Editorial Director of the knowledge platform, MyLiveableCity.
An urban designer, city planner and architect with four decades of design experience in Europe and India. He was also the founder and director of the award winning Dutch design practice, Khandekar Urban Design and Landscape, that continued under the name of BDP Khandekar. He has lectured and published extensively on different aspects of Liveable Cities at universities and conferences across the world.
My Liveable City has published three books under his guidance: Affordable Housing, Inclusive Cities, Designing For Sustainability Through Upcycling and the latest release Streets For All : 50 Ideas for Shaping Resilient Cities, published in 2022, has been edited by him.
Read Shyam Khandekar's definition of this year's competition theme. Entries will be judged based on this outline.
Who can apply :
Only thesis submitted during the academic year of Master's program 2022-2023 and 2021-2022 are eligible.
Read complete T&C
Prizes :
Total cash reward Euros 20,000. Distribution will be as follows:
Jury will decide on the disbursement of the balance Euros 5000
Certificate will be issued by DAIDA Foundation to the winning participants
Overwhelming registrations received from 23 Institutes across Belgium, Egypt, Germany, India, Italy, South Africa and Netherlands.
Thesis submission process to commence shortly.
Timelines of the various stages of the competition:
Registrations close on 15.8.2023.
By end of August 2023, DAIDA will confirm the number of submissions permitted to each Institute and will also share instructions for the submission process.
Last date of thesis submission will be 31.10.2023.
Jury will review submissions from November 2023 to January 2024.
Shortlisted candidates will be announced in January 2024.
Online event will be held in early February 2024, where the shortlisted candidates will be invited to defend their thesis to the jury and answer their questions.
Final winners will be declared around mid- February 2024 via an online event.